An education is for life, not for living alone. A broader perspective, knowledge of various cultures and lifestyles, interaction and communication, troubleshooting, funds management – all this sums up the benefits of overseas study. It is an experience for life – it helps you weigh your priorities, the pros and cons, and decide on a lifestyle of your choice.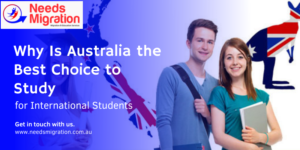 Let's us look at how Australia could be that dream satisfying overseas study destination.

1. Proactive people prefer challenges:
Opportunities come with challenges and studying abroad is no different. Moving out of the comfort zone of friends, family,and environment, is a difficult decision to make, but the new journey is a wonderful learning experience, which opens a host of opportunities.
Australia, with its friendly disposition, a mix of quality education, great indoor and outdoor activity, and ample job opportunities, provide adequate but manageable challenges for students who want to make it big in life.

2. Enjoy the Cultural Diversity
Every culture is a culmination of its grand history and geography. Changes that happen over time have refined human lives. Every country is an example of unity in diversity, which is unique and has to be experienced to be understood.
Australia has been home to people of many countries. The cultural fabric of Australia is accommodative and lively. Students find it comfortable to settle in the new environment quickly and go about their career plans

3. Quality and Value-add Education
Education is the foundation on which the edifice of life is constructed. It is important to choose quality education systems that have evolved over the period and proved relevant with changing times.
Australia, with 7 top-ranked universities in the global first 100, nurtures specialisations of every kind, both traditional and new. Passionate seekers can fire their creativity with the support of these knowledge centres.

4. The language and expression
English is the mainstream language; the Australian slang though, makes it sound quite different. It is important to get adequate language practice early on since it will enable course completion in time and help in securing jobs. Inability to handle the language in line with local usage is a big handicap for overseas students.

5. Career and Living
The world is a global village; technology has changed the way trade, commerce, and services happen. Organisations are looking at persons with a global perspective.
Australia – a great combination of ancient history and modern technology, multiple disciplines, friendly disposition, manageable costs of study, and more importantly, job prospects, provide a great learning experience the students are looking for, to springboard their career. The accommodation rentals are steep, in line with most developed cities; especially for students from third-world countries. But with causal jobs aplenty, students manage funds for a decent living.

6. The support of friends
The opportunity to create long-lasting friendships across cultures and countries happen in overseas university education.
Australia secures the top berth in study abroad destinations with seven cities ranked among the top 75 in the QS Best Student Cities 2016.

7. Opportunities to travel
Travelling is an enjoyable learning experience.
Australian universities are located in both rural and urban area. Travelling to neighbouring cities or states is hassle-free with well-connected transport network. The spectacular Sydney beach, multiplexes of Melbourne, the Surfers Paradise, the great wildlife – each one is a unique and satisfying experience.

8. Student visa friendly
Getting the visa for study in time is crucial. The requirements will include getting accepted into educational institutions supported by sufficient funding and adequate health insurance cover.
Australia offers a streamlined process for the Student Visa (subclass 500). Given that the requisite documents are submitted as per directives, obtaining the visa is easy.

9. Internships along with study
Internship programs are the sure shot way to ensure student jobs. This will also pave the way for obtaining vacation projects and finally secure a permanent opening if the intern proves their capability.
Some Australian universities offer internships or work opportunities to their students. If internship is your prime interest, you have to take special care in choice of the education program and satisfy the specific course requisites that enables internship.

10. Internships along with study
As a student, you would look out for jobs during the course duration to meet the funding requirements and to also gain local work experience. Most often, you would like to stay longer in the country to explore better job opportunities. For those tempted to stay on, Australia offers a Temporary Graduate Visa (subclass 485). This visa allows international students, to continue work after graduation for a specific period.
What Are the Pros and Cons of Studying in Australia?
Pros:
Academics is Qualitative, Globally Recognised, and Offered Uniformly
Australia offers all kinds of study abroad programs – Be it the Marine Biology program offered by James Cook University, rated the best globally or custom designed courses offered by research-based campuses in the universities in Queensland and Sydney, or Innovative and technology driven campuses of the Queensland University or the University of Technology, Sydney Australia provides quality academic experience at affordable cost with opportunities for career progression.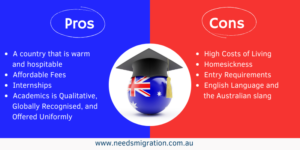 A country that is warm and hospitable
Being a country with age old tradition, Australia has accepted people from various countries into its fold. With a friendly and slightly laid-back nature, people make study in Australia an enjoyable proposition.
Affordable Fees
The Australian Colleges and Universities provide affordable education programs with under graduate degrees atan estimated $15,000 and postgraduate degrees at $20,000 per year. Scholarships are available based on past academic performance of students. English language programs are taught by experts for only $300 per week. Additional vocational qualification will cost $4000 for a certificate course and $2000 for a diploma course.
Internships –
Internships are great opportunities as it provides hands-on experience and meets the required experience criteria for some post-graduate courses. With a possibility to earn stipend in some cases, there are also opportunities of being offered casual or part-time jobs. Internships are a great way to improve communication and networking skills, which creates reliable contacts for developing a career.
Cons:
High Costs of Living
A major concern for international students, especially from the third world country, is the expensive lifestyle. Property rentals are high. University accommodation is usually crowded. Finding convenient and affordable housing is a big challenge. A part-time job becomes necessary to take care of the living expenses.
English Language and the Australian slang
Communication is vital in any environment, and in Australia, English is the language predominantly in use in academic and business settings. The ability to speak reasonably good English becomes essential for carrying out the daily transactions. The Australian slang takes some time to understand. It therefore becomes necessary to enrol for online English programs for better communication, ability to produce quality assignments on time, and to secure a job.
Entry Requirements
To process the student visa, the following are required:
pass the extensive assessment criteria for admission to a higher education institution
pass an IELTS test (the test scores depend upon the university selection criteria)
undergo a medical test
Top 3 Short Benefits of Living in Australia
Australia is friendly and inviting. Many expats choose Australia their home away from home for the following reasons:
Comprehensive and affordable healthcare system which is ranked among the best in the world as far as quality and affordability is concerned
The average annual salary in Australia is $91,550(USD 64,000), which is much higher when compared to most countries.
Australia has an exciting outback and is the adventurers' paradise. Graced with mountains, beaches, forests, and waterways, the terrain keeps evolving beautifully. Koalas, kangaroos, wallabies, and emus add on to the excitement.
Best Places to Study Abroad in Australia
Australia secures the top berth to study abroad destinations with seven cities ranked among the top 75 in the QS Best Student Cities 2016. The selection criteria had 3 major elements – student mix, desirability, and employer activity. The flip side however is the high living expenses. Let us have a look at these destinations in order of their ranking: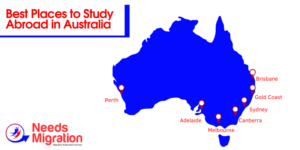 1. Melbourne
Ranked second after Paris in the Best Student cities, Melbourne, the cultural capital of Australia, is the place for youngsters to be. Music, comedy, and sport make this city the hotspot for multicultural exchange and the worlds' most liveable city. With high employer activity, this is the first choice for students who are Australia bound.
2. Sydney
This economic and financial hub is the fourth in the Best Student Cities index. Sydney ranks first in the entire index for 'desirability, due to high quality of life and thepicture-perfect beaches and green spaces. Australia's most respected universities, two of which rank among the top 50 in the QS World University Rankings® 2015/16 are housed in Sydney.
3. Canberra
Australia's capital, Canberra, is ranked 17 in the Best Student Cities ranking. It is home to Australia's highest ranked university, Australian National University (joint 19th in the QS World University Rankings). Canberra has plenty of attractions and numerous natural reserves, which makes it the calling of many international students.
4. Brisbane
Placed 5th in the order of ranking, Brisbane is very student friendly and houses 3 major universities. A tourist destination, it provides a combination of urban and outdoor life. The ideal mix of sunny climate and super beaches allow for daytime sporting activity and a cosmopolitan downtown filled with upbeat nightlife and trendy arts.
5. Adelaide
Located on the south coast, Adelaide is ranked 26th on the Best Student Cities index. With three Universities within the top 550 featured in the QS World University Rankings 2015/16, Adelaide has the best of everything. Open city spaces, well planned city centre and admirable parklands and boulevards, with close proximity to beaches and islands and the Adelaide Hills, it is great for hiking, cycling, wildlife-watching.
6. Perth
Perth, ranked 36th on the Index, is located on the Western coast, 2,000 miles away from Sydney and Melbourne. Three universities in Perth are featured in the QS World University Rankings® 2015/16. With accommodative climate and picture-perfect beaches, Perth is emerging as a centre for cultural, culinary, and recreational attractions.
7. Gold Coast
With golden sands and sunny days, this Surfer's Paradise is ranked 69th in the Best Student Cities index. Gold Coast is located in Queensland, south of Brisbane. The surrounding rural hinterland, popularly known as the 'green behind the gold', and numerous mountains, natural rock formations and spectacular waterfalls, this city has the top ranking for student desirability.
The Globally Ranked Universities in Australia have set the benchmarks for quality education, and this is proof enough for you to make your choice. Students planning to pursue an overseas study could look at Australia as a viable destination – it opens its doors to world-class education and a range of rewarding experiences. The successful ones are those that make smart decisions. Choosing Australia could be that smart move.
We at Needs Migration help students with a dream to study in Australia. Our team of experts comprise of MARA-registered migration agents and qualified PIER educational consultants, who are well-versed with the procedures and documentation involved with the migration process. By making an objective assessment of your migration status and counselling you on the courses that might be suitable, we help you through the migration process, and work to see you happily settled in Australia. We are available for consultation at our offices in Sydney and Canberra.